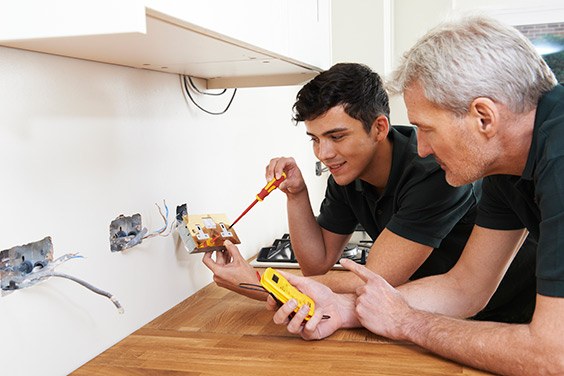 Every single Olney homeowner depends on their electrical wiring to live comfortably. That's why our Olney electricians take special care to give you the best service available. Not only can you trust that our electricians will be prompt and absolute experts, they're also local and as friendly as the best neighbor.
From generator installations and landscape lighting to new wiring installation and even lighting repairs, you can trust our electricians in Olney to get it done right, on time, and better than any other electrician out there. We've been a family owned and operated business since 1925, and are dedicated to providing the best service available.
With an office local to Olney, Kolb Electric is never far away when you need us. If you ever have a concern or question about your home's electrical systems or if you need an electrician to come out to your house, contact us today!
No job is too large or too small for the expert electricians at Kolb Electric. For a free estimate on your electrical work, call us today at 877-287-1179877-287-1179!
24-Hour Emergency Electricians in Olney, MD
When you need electrical service in Olney, MD, you need it right away. That's why Kolb Electric offers fast service, often same day! From a simple blown circuit to major electrical repairs and everything in between, the Olney electricians at Kolb are here to ensure the lights stay on in your home when you need them.
Our Electricians Specialize in Both Residential and Commercial Services
Residential Electrical Services in Olney, MD
If it's got a wire, we can do it. You can trust our electricians to handle any residential electrical project, including (but not limited to):
Whether your home has a shorted circuit, your pool light is out, or you've got no power at all, Kolb Electric can fix it, 24/7. Our uniformed, professional electricians are trained to handle a wide variety of residential electrical issues.
Our Commercial Electrical Services in Olney, MD
With the largest bucket truck fleet in the area, Kolb Electric offers a full array of excellent commercial services to businesses and offices in the area. Our Olney electricians specialize in:
We also offer businesses in Olney, MD state-of-the-art energy saving consultation services. Whatever your commercial needs are, our electricians are committed to serving them in a timely manner.
Why Call Kolb Electric's Electricians?
We are a family owned and operated business that has been serving the Olney area since 1925. We are committed to providing superior electrical services for residential spaces, as well as industrial, commercial, and construction businesses. The valuable advantages we can offer you include great service, high quality products, and experienced workers at a competitive price.
With six local offices, five bucket trucks, and one of the largest fleets in the Mid-Atlantic Region, we are able to handle any size project.
Our services cover everything from new wiring to electrical maintenance and troubleshooting. No matter what your electrical needs are, we have the right solution, at the right price. Our electricians are fully licensed by state and local jurisdictions, assuring you that your electrical project will be installed to exact industry and code standards.
If you're planning an electrical project and you're looking for a quality job without the outrageous prices, contact us today to arrange for a free quote.
Our Olney, MD Electricians Are…
Courteous, professional, and punctual
Knowledgeable and experienced
Trained to handle any electrical issue or problem
Accurate and efficient troubleshooters that can save you time and money
Equipped with the latest diagnostic tools and parts
Equally skilled in residential and commercial services
For all your electrical service needs in Olney, MD, contact the electricians at Kolb Electric today—877-287-1179877-287-1179 or click here!