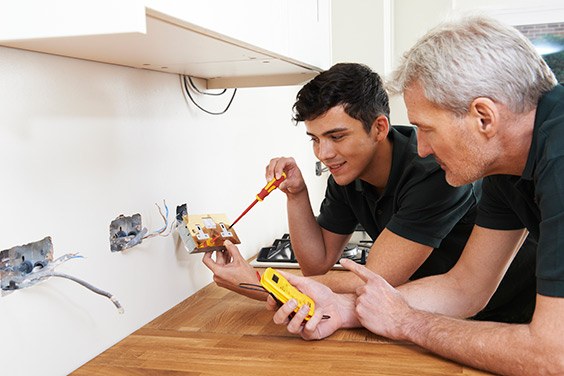 Whether you run a small business in Baltimore or call Charm City home, you need electrical systems in place to power up your everyday appliances and devices. That's where we come in.
Since 1925, Kolb Electric has provided professional electrical services throughout the Baltimore region. Our crew has worked on residential and commercial projects of every size, from breaker upgrades to light fixture installation and everything in between.
Make sure you have safe, reliable electricity in your home or business. Contact Kolb Electric online or call 877-287-1179 today to schedule electrical services.
Residential Electrical Services From Baltimore's Best
The electricity running through your home is essential to living a comfortable life. Without safe and reliable power, you risk damaged appliances, sparking systems, or worse. Make sure your home's electrical system is secure with assistance from Kolb Electric.
We bring nearly a century of experience to every electrical project. You can rely on us for a variety of residential electrical services in Baltimore, including:
Whole-home rewiring
Outlet repair or installation
Lighting replacement and wiring
And much more!
Keep the power flowing within your home with help from the experts at Kolb Electric. Call 877-287-1179 or contact us online today to schedule a consultation.
Commercial Electrical Services
Electricity is vital to the operation of many businesses. If you need electricity to keep your doors open, make sure Kolb Electric is there to help when needed. You can trust us for your commercial electrical services needs, such as:
Rewiring your existing wiring system
Wiring wherever you need it
Servicing for backup generators
Replacing faulty circuits or fuses
And much more!
Keep your business open and your customers happy — contact Kolb Electric online or call 877-287-1179 when you need electrical services for your business.
Signs Your Baltimore, MD Property Needs Electrical Services
Electrical troubles are not something you want to ignore — they'll only get worse with time. Rely on Kolb Electric when you're dealing with:
Smoke or sparks coming from an appliance
Unresponsive outlets or light switches
Breakers that always trip
Odd smells coming from electrical devices
Fuses that blow regularly
Get the Electrical Services You Need Now With Kolb Electric
Kolb Electric ensures that your home or business has the safest, most reliable electrical systems. With us on the job, you can rest easy knowing that you have the power you need to live your life. Kolb Electric also offers 24/7 emergency services for issues that show up at any time!
Call 877-287-1179 or contact us online today about your need for electrical services in Baltimore, MD.
Additional Resources
To help you understand what Kolb Electric is all about, check out our blog posts: