Do you want to feel a little safer in your home when you turn out the lights or make sure your customers and staff are safe when they leave the office late? The right security lighting system can make a big difference when it comes to the safety of your home or business. If you want to install an outdoor security lighting system in Maryland, Northern Virginia, or Washington, DC, call Kolb Electric!
Since 1925, we have been providing reliable electrical services to families and commercial property owners throughout the region. Our licensed, professional electricians can install security lighting in your yard and around your home to protect you from intruders while illuminating your property at night.
Looking for outdoor lighting professionals in Maryland, Virginia, or Washington, DC? Call Kolb Electric today at 877-287-1179 to install security lighting!
Benefits of Installing Security Lights
The benefits of security lighting go beyond deterring criminals. You can use security lighting in your Maryland, Virginia, or DC home for:
Added Safety
---
No matter how well you think you know your yard, it's hard to walk around safely when it's dark and even harder for your guests. If you've ever tripped walking up the driveway or fumbled around for the porch light to lock the door, call Kolb Electric!
Added Convenience
---
Security lighting doesn't have to be ugly. In fact, the right kind of outdoor lighting can provide all the benefits of security lighting while giving you a new way to enjoy your yard! If you enjoy spending time outdoors after dark or if you've been looking for a way to do so, call Kolb Electric. Our professional electricians will design and install outdoor lighting to provide extra security and a new place to spend time and entertain!
Added Security
---
Of course, we can't forget the main benefit of security lighting — security! A two-year study on the effects of security lighting showed a 44% decrease in burglary and a 22% decrease in vandalism in homes that installed security lighting. When paired with a home alarm system, security lighting is one of the cheapest and most effective forms of security you can buy!
Tips for Security Lighting in DC, MD & VA
What are the types of security lighting?
Floodlights
Spotlights
Wall packs
Area lights
What are the features to check for when choosing security lights?
Waterproof body
Lamps
Motion sensors
Light intensity
Light distribution
Range of illumination
Which standards and certifications should I check for?
ENERGY STAR® Certification
UL (Underwriter Laboratories) Certification
Energy-Efficient Security Lights
Low-voltage security lighting can be set to turn on automatically when it gets dark and shut off again when the sun comes back up. And while this lighting doesn't use a lot of energy, if you're concerned with wasting electricity, you can also install motion-detecting lights that will automatically light up an area in response to movement.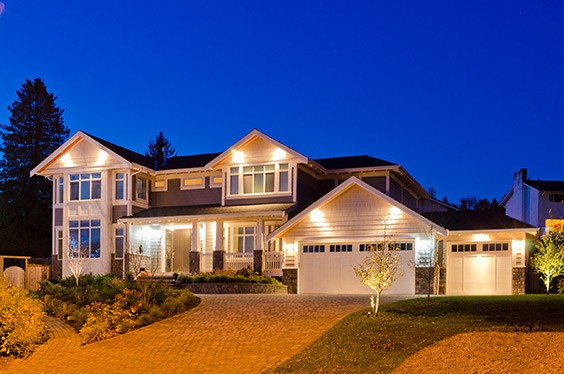 At Kolb Electric, we want everyone in Maryland, Virginia, and the Washington, DC, metro area to sleep soundly. If you feel uncomfortable in your home when the sun goes down, call us at 877-287-1179 for security lighting installation!
Why Call Kolb Electric for Security Light Installation in MD, VA & DC?
We are a family-owned and locally operated business serving the Maryland, Northern Virginia, and Washington, DC, areas since 1925. We are committed to providing superior electrical services for residential spaces, as well as industrial, commercial, and construction businesses. We offer valuable advantages such as great service, high-quality products, and experienced workers at a competitive price.
With six local offices, five bucket trucks, and one of the largest fleets in the Mid-Atlantic region, we can handle any size project and offer 24-hour emergency repair service.
Our services cover everything from new wiring to electrical maintenance and troubleshooting. No matter what your electrical needs are, we have the right solution at the right price. Our electricians are fully licensed by state and local jurisdictions, ensuring that your electrical project will be installed to exact industry and code standards.
If you're planning to install security lighting for your DC-area home or business and you're looking for a quality job without the outrageous prices, contact us today to arrange for a free quote.
Our MD, DC & VA Electricians Are:
Courteous, professional, and punctual
Knowledgeable and experienced
Trained to handle any electrical issue or problem
Accurate and efficient troubleshooters who can save you time and money
Equipped with the latest diagnostic tools and parts
Skilled in residential and commercial services
Schedule Your Appointment for Security Lighting Today
For all your security lighting needs in Maryland, Virginia, and Washington, DC, contact the electricians at Kolb Electric today — call 877-287-1179 or reach out online!