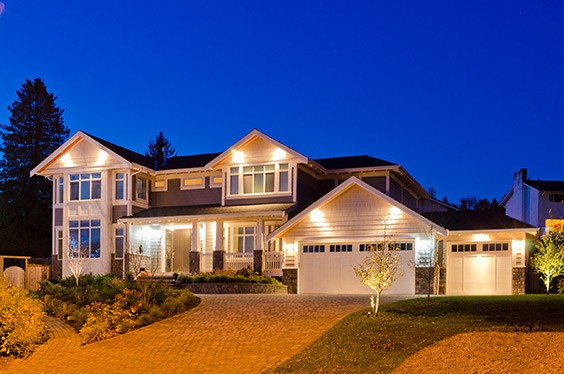 Illuminating Landscapes To Take Your Home To The Next Level
Outdoor lighting provides practicality and safety while enhancing your Maryland, Virginia, or DC home's curb appeal. Long gone are the days when landscape lighting included one or two floodlights attached to a home's exterior. Today, outdoor lighting is as essential to landscape design as plants and hardscapes are. Simple, stately, or somewhere in between, landscape lighting is a fantastic way to turn your front, back, and side yards into beautifully illuminated masterpieces!
Kolb Electric offers a broad range of outdoor lighting services, including:
Are you considering professional landscape lighting for your MD, VA, or DC home? Contact Kolb Electric online or call us at 877-287-1179 to schedule a consultation.
Benefits of Professional Outdoor Lighting Installation
It's always a good idea to consult a professional outdoor lighting specialist before selecting and installing your home's outdoor lights. They can help you choose the right types of light for your property and personal needs, guiding you through the most attractive design and placement of the different types of exterior light fixtures. They're also knowledgeable about local electrical codes and other guidelines you need to follow. And if your breaker box or electrical panel isn't equipped to handle additional fixtures, they'll provide the rewiring services needed.
For professional landscaping lighting design and installation in MD, VA, or DC, contact Kolb Electric online or call us at 877-287-1179!
Types of Outdoor Lighting Services
Here are just some of the landscape lighting services Kolb Electric provides:
LED lights. They're a terrific choice for outdoor use and offer the same benefits you get from indoor LEDs. They also require less maintenance, and replacements are less expensive than with other fixtures.
Patio light installations. Wall and ceiling lights, some with fans, are the most popular selections for patios. Many homeowners also choose to install recessed lights in patio or deck stairways.
Floodlights and spotlights serve two separate purposes. Floodlights have broader beam spreads that illuminate more significant amounts of space. Spotlights are the right choice for creating a nighttime effect that doesn't cause a glare.
Motion sensor and security lights add a sense of safety and security to your home. And because they only turn on when they detect motion, they also conserve power. These types of lights are usually installed on garages, along dark pathways, in backyards, and on porches.
Timers and dimmers decrease energy costs and increase security while creating the perfect ambiance for backyard get-togethers and deterring unwanted visitors.
Depending on the effect and use you want, the right combination of various lighting fixtures can make your landscape lighting vision a reality. Use downlighting to emphasize backyard features and uplighting to illuminate trees. Shadow lighting is ideal when you want to add a dramatic dimension to your landscape.
Contact Kolb Electric online or call us at 877-287-1179 to learn about all the outdoor lighting options we offer.
Choose Kolb Electric in Alexandria, Virginia
From recessed deck lighting to garden and pool lights, the experienced and skilled outdoor lighting pros at Kolb Electric can help with all of your outdoor home lighting installations. We'll help you choose the right fixtures and ensure they're installed correctly and safely.
Contact us online or call us at (877) 287-1179 for more information or to schedule an appointment.
Frequently Asked Questions About Outdoor Lighting
Is there a difference between the lighting fixtures a landscape company installs and the ones I can buy at a big-box store?
Absolutely! The quality of the fixture, the light source, the lighting effect, the warranty, and the life of the system are typically much better with professionally installed landscaping lighting.
Does low voltage outdoor lighting increase the value of my home and property?
It can. Some experts estimate that professionally installed landscape lighting can increase a property's value by up to 12%.
What are the advantages of low-voltage outdoor lighting?
Low-voltage lighting is energy-efficient, but that doesn't mean it's low-impact! Perfectly scaled to residential homes, it's a great way to green your lifestyle while saving money in the process.